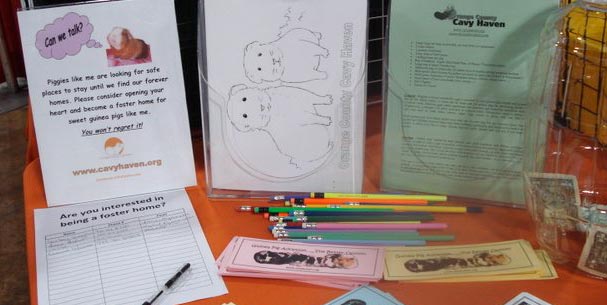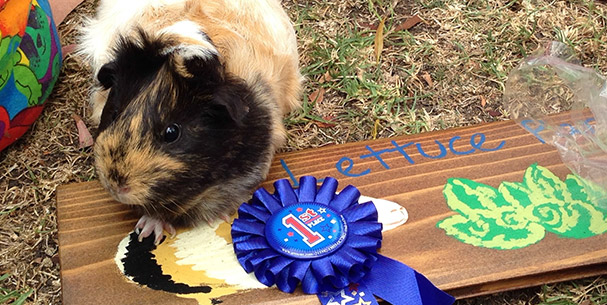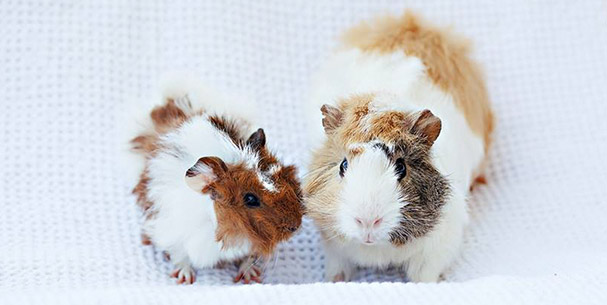 OCCH operates solely on the effort and dedication of our volunteers. The people who care for the pigs on these pages are volunteers devoting their own time, energy, and funds towards helping rescued animals find forever homes.
You can help in many ways, most of which will only take a small amount of time out of your day.
OCCH puts on educational and fundraising events around Los Angeles and Orange Counties throughout the year. We need volunteers to:
make fliers and posters for our rescue
help transport supplies to the events
set up and take down our booth
trim nails
sell our products
cuddle foster pigs
and most importantly, greet people and spread the word about homeless guinea pigs and proper guinea pig care.
Two volunteers educating the public
A volunteer socializes one of our fosters
Another way that you can help is by transporting guinea pigs who are in high-kill shelters to the safety of the rescue or foster home or become a shelter scout.
And you can always invent your own way to assist. If you have always wanted to help animals but are not able to take them into your home, there are many ways that you can make a lasting and vital contribution to these homeless animals.
OCCH operates solely on the effort and dedication of our volunteers. Join our team!
Adoption Specialist
Adoption Specialists screen potential adopters to make sure they understand the responsibilities and long term commitment necessary in having guinea pigs. Specialists then assist potential adopters in finding the right pig(s) for their family and lifestyle. Volunteers are trained to answer some basic guinea pig care questions and offer assistance to adopters during the application process. An Adoption Specialist will not only find loving homes for poor, neglected, and abandoned guinea pigs, but will get to play matchmaker and find the perfect fit for guinea pigs and people.
Adoption Specialists may conduct home visits after accompanying an OCCH volunteer with experience on other home visits. Good people skills and knowledge of guinea pigs are necessary. Sometimes will receive calls from people looking to surrender their guinea pig(s).
Post Adoption Specialist
Post Adoption Specialists make very important follow-up calls to recent adopters to ask how their new their new pig is acclimating to their home and offer support for any adjustment issues. Post Adoption Specialists also get to share heartwarming stories they hear with the rest of our volunteers.
Foster Parent
Foster parents care for one or a pair of guinea pigs in the home. If you love guinea pigs and want one of the most rewarding jobs OCCH has, then look no further. Ideally all of our guinea pigs will be able to experience the love and attention a foster home can provide. There are certain requirements prior to being approved as a Foster Parent, including completing a Foster Parent Application, interview, and possible home visit. Fostering costs will be reimbursed by the rescue.
Sewing People
OCCH desperately volunteers who can SEW cuddle cups, cozies, tunnels, fleece cage blankets, and other items for the guinea pigs and for us to sell as a fundraiser at events! OCCH will supply you with patterns.
Shelter Scouts
Shelter Scouts are those volunteers who visit their local shelters to see the homeless guinea pigs are receiving proper care. Our shelter scouts take photos of the pigs so we can list them on various websites for adoption, sex them, bring the pigs supplies like hay, pellets, and veggies, and build working relationships with the shelter staff. Training will be provided and supply costs will be reimbursed.
Guinea Pig Transporter
Guinea pig transporters provide safe transport for foster and shelter pigs between veterinary hospitals and OCCH's adoption events, or transports guinea pigs from area animal shelters to foster homes. Use of one's own vehicle is required.